Gldgmtk (Numidian Nobles)

Gldgmtk (Numidian Nobles)

Primary Weapon

Type: spear
Attack: 6
Charge: 30
Lethality: 1
Range: 60.5
Ammo: 8
Attributes: Thrown missile

Secondary Weapon

Type: spear
Attack: 4
Charge: 30
Lethality: 0.33
Attributes: Armour Piercing

Defence

Armour: 6
Shield: 2
Skill: 11

Recruitment

Soldiers: 25
Cost: 2932
Upkeep: 733
Turns: 1

Mental

Morale: 15
Discipline: impetous
Training: trained

Other

Hit Points: 1
Mass: 1
Attributes: Can board ships, Can hide in forest, Very Hardy, Can form cantabrian circle
Formation: square
Side/Back spacing: 2/4
Mount effects: elephant +1, chariot +2
Ownership: Aedui, Arche Seleukeia, Arverni, As'Sab'yn wal'Jau, Baktria, Casse, Epeiros, Getai, Hayasdan, Iberia, Koinon Hellenon, Makedonia, Pahlav, Pontos, Ptolemaioi, Safot Softim biKarthadast, Saka, Sauromatae, Swebozez, Eleutheroi
Igallidan (Numidian Nobles)

Igallidan (Numidian Nobles)

Primary Weapon

Type: Javelin
Attack: 16
Charge: 0
Lethality: 1
Range: 60
Ammo: 8
Attributes: Thrown weapon

Secondary Weapon

Type: sword
Attack: 9
Charge: 10
Lethality: 1

Defence

Armour: 4
Shield: 2
Skill: 6

Recruitment

Soldiers: 40
Cost: 1950
Upkeep: 488
Turns: 1

Mental

Morale: 7
Discipline: low
Training: untrained

Other

Hit Points: 1
Mass: 1
Attributes: Can board ships, Can hide in forests, command, hardy, knight, can_withdraw
Formation: square
Side/Back spacing: 3.7/3.6
Mount effects: elephant -1
Ownership: Numidia, Karthadastim
The Gldgmtk are high ranking members of Numidian society operating as cavalry. Like other Numidian cavalry, they carry javelins, but are armoured and capable of holding their own in close combat.
Description
The Gldgmtk are the highest ranking aristocrats of the Numidia tribes. Capable of the hit and run tactics of their lower ranking followers, they also wield heavier equipment and armour. These cavalry are capable bodyguards and can be effective in charging, but they are not as well-armed as the heavy cavalry of other regions. Their greatest utility lies in their speed, manoeuvrability, and accuracy with their javelins.
Historically, in North Africa there existed a 'class' of nobles which exercised power beneath local chiefs, warlords, and later the kings of Numidia. These men often acted as the bodyguards and royal soldiers of the king, notably under the reign of Jugurtha. In Sallust's account of the Jugurthine war he mentions that in a route, only the Royal Cavalry could be counted upon to remain at the king's side and not disperse into the countryside. The term GLDGMTK used here is from the Libyan dialect spoken by the Numidians and comes from several noble titles on inscriptions from the town of Thugga. The title translates loosely as 'Prefect of Fifty'. Another common title in Thugga was 'Chief of One Hundred'.
The equipment and tactics of cavalry in ancient North Africa evolved in tandem with the shift from a pastoral lifestyle to a more settled existence. Over time, they became heavily influenced by Phoenician, Greek and Roman styles. In earlier periods they were likely equipped with animal hides acting as their armour. In later ages panoplies of tube-and-yolk armour and bronze scales are found in Numidia. By the mid-2nd century CE Numidian kings and nobles are depicted wearing chain mail. This move toward increasingly heavier, elite cavalry may be what caused the Numidian nobles to be replaced as bodyguards by Spanish and Gallic mercenary cavalry. Later than this, the Romans record Juba II using a form of cavalry which they describe as being very similar to the professional bodyguards of Augustus and the early emperors. Whether this is a similarity due to both using European cavalry such as Gauls, Iberians and Germans, or whether this was a move back to native cavalry using arms inspired by foreign styles is unclear.
Usage
These cavalrymen are an armored version of the Parasim Numidim (Numidian Cavalry), well-suited in battling light and medium cavalry although they are still no match for heavy cavalry. They still retain the speed of their lighter cousins and should use the same bait and lure tactics, isolating and surrounding enemy cavalry with your heavy cavalry and Numidian Nobles providing a supporting cavalry charge.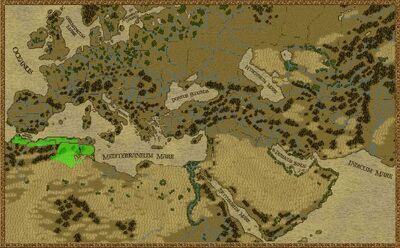 Ad blocker interference detected!
Wikia is a free-to-use site that makes money from advertising. We have a modified experience for viewers using ad blockers

Wikia is not accessible if you've made further modifications. Remove the custom ad blocker rule(s) and the page will load as expected.